Welcome to the Mid-America Karate Region's website. Our clubs teach a traditional Japanese martial art, known as Shotokan Karate.
We are a member of the International Shotokan Karate Federation (
ISKF
), which was founded by Teruyuki Okazaki.
Our Chief Instructor is Sensei Martin Vaughan, who began his martial arts training in 1972. Assisting Dr. Vaughan with our Regional trainings is Sensei James Oberschlake. Providing advice and counsel to our instructors as our Chief Instructor Emeritus is Sensei Greer Golden.
Please visit our 'Regional Clubs' page to find a Club near you. You can also visit our 'Calendar' page to see where our next Regional Training will be held.
We hope to see you soon!
Mid-America Karate, Inc. is a not for profit, 501(c)3 organization.


---
---
For Our Next Regional Events:

Please Scroll Down
or visit our Calendar Page


---
---
Do you want to be added to our email list?
Please send a request to:
Mid-America Regional Headquarters at
​
info@MidAmericaISKF.com
---
---
Mid-America Fall Camp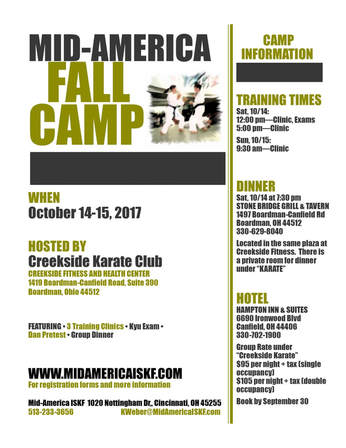 October 14 & 15, 2017
Hosted by the
Creekside Karate Club
Instructor
Sensei Martin Vaughan, 7th Dan
Assisted by
Sensei James Oberschlake, 7th Dan
and Members of the Mid-America Technical Committee
Sensei Kimberly Weber, 6th Dan
Sensei Jeffrey Weber, 6th Dan
Training LocationCreekside Fitness & Health Center
1419 Boardmand-Canfield Road, Suite 390
Boardman, Ohio 44512
​
Training ScheduleSaturday October 14, 2017
12:00 pm-2:00 pm: Training
(There will be a Kyu exam & Dan pre-test following the training)
5:00 pm-7:00 pm: Training
Sunday October 15, 2017
9:30a-11:30a: Training
Arrangements for a group dinner have been made on
Saturday, October 14th beginning at 7:30pm
at the
Stone Bridge Grill & Tavern
1497 Boardman-Canfield Rd
Boardman, OH 44512
Phone:
(330) 629-8040
Please mention "karate" when you arrive. You will then be directed to our reserved room.
(The restaurant is located in the same plaza as Creekside Fitness)
Hotel Information
There is a group rate at the
Hampton Inn & Suites
6690 Ironwood Blvd
Canfield, Ohio 44406
Phone
330-702-1900
$95 per night + tax for single occupancy
$105 per night + tax for double occupancy
Be sure to Book by
September 30th
for the group rate (mention Creekside Karate)
Download your
Individual & Family
Registration Forms
<HERE>
Download your
Collegiate Student
Registration Forms
<HERE>
Download your Kyu Exam / Dan Pretest Form
<HERE>
Download your Camp Flyer (PDF)
<HERE>
(Typed forms are preferred)
All Pre-Registration Forms & Testing Forms
must be R
eceived by
Regional Headquarters
by October 7, 2017
Please mail Payment, Registration and Testing Forms to:
Mid-America ISKF
1020 Nottingham Drive
Cincinnati, Ohio 45255
To pay with PayPal
Please use this link
---
ISKF National Karate Tournament
​November 11-12, 2017

---
To make a Donation or to Pay for a Regional Event
​using PayPal
​Please click on the image below

If paying for an event with PayPal, please fill out the appropriate
​
Registration Form
and either mail or email the form to Mid-America Regional Headquarters
​​
Mid-America ISKF
1020 Nottingham Drive
Cincinnati, Ohio 45255
Registration@MidAmericaISKF.com
---
Do you shop on Amazon?
If so, please use the link below to have Amazon make a donation to
Mid-America Karate, Inc. after your purchase
It doesn't cost you anything... but it does help our organization!
Shop Amazon Here
---
Stay up with us on Facebook!
Click the link below to Like us.